Within the Best-One organization, we operate 16 retread plants that are strategically positioned through our truck tire centers. Retread services are available at all Best-One locations.
Our expertly crafted retreads are a safe, reliable option for fleets of all sizes. Commercial trucks, agricultural equipment, industrial vehicles and more can all minimize costs and maximize performance with retreads. With the Bandag Process, our retread tires are manufactured in an environmentally friendly and cost-effective manner. The Bandag Process also ensures that retread tires perform just like new oneswith the same level of reliability.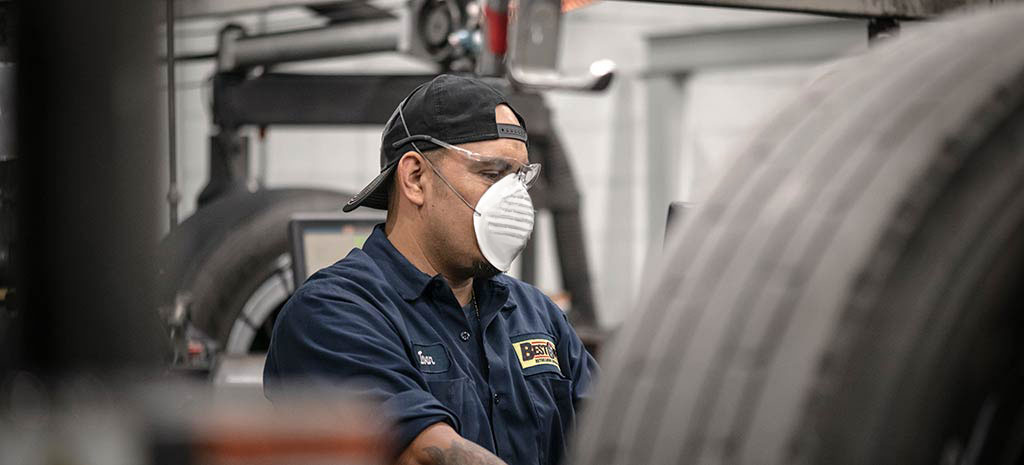 Best-One Retread Tires
Warranted against workmanship and material failures

Crafted with computerized technology

Trusted by airlines, school bus fleets, farmers and more

Reduce manufacturing waste and energy

The Bandag Process
Bandag is the top name in tire retreadsover the past 50+ years, they have continuously perfected and refined their patented process with cutting-edge technology and unrivaled expertise. This all stems from their commitment to quality and innovation, and their goal to improve tire performance and maximize your bottom line.
RETREAD PLANT VIDEO TOUR
Take a video tour of a retreading plant to see how the tire retreading process works.
Courtesy of Bridgestone Bandag, LLC. All Rights Reserved. Copyright 2013. To find out more, please visit www.retreadinstead.com
Best-One Retreading Facilities
| Dealer Name | Mailing Address | City | State | Zip |
| --- | --- | --- | --- | --- |
| Best-One Retreading of Cleveland | P.O. Box 2125 | Cleveland | TN | 37320 |
| Best-One Retreading of Indianapolis | 9302 East 30th Street, Suite A | Indianapolis | IN | 46229 |
| Best-One Retreading of Knoxville | 2323 Chipman | Knoxville | TN | 37917 |
| Best-One Retreading of Louisville | 3215 Industrial Parkway | Jeffersonville | IN | 47130 |
| Best-One Retreading of Princeton | 1342 W 100 N | Princeton | IN | 47670 |
| Best-One Retreading of Toledo | | Toledo | OH | |
| Best-One Retreading of Lima | 701 E. Hanthorn | Lima | OH | 45804 |
| Best-One Retreading of Marion | 1720 Wellman Road | Marion | SC | 29571 |
| Best-One Retreading of Nashville | 1118 Menzler Road | Nashville | TN | 37210 |
| Best-One Retreading of Fort Wayne | 3525 Independence Drive | Fort Wayne | IN | 46808 |
| Best-One Retreading of Augusta | 2514 Deans Bridge Road | Augusta | GA | 30906 |
| Best-One Retreading of Saint Louis | 5475 Brown Avenue | Saint Louis | MO | 63120 |
| Best-One Retreading of Milford | 5997 Meijer Drive | Milford | OH | 45150 |
| Best-One Retreading of Alliance | 2300 W. Main Street | Alliance | OH | 44601 |
| Best-One Retreading of Morehead | 185 Baldridge Road | Morehead | KY | 40351 |
| Best-One Retreading of Decatur | 340 E. Macon St. | Decatur | IL | 62523 |